Regular price
Sale price
$35.00 USD
Unit price
per
Sale
Sold out
Introducing NasaClip: The first and only adjustable nosebleed rescue device that provides constant, comfortable, hands-free compression.

NasaClip, created by Dr. Liz Clayborne, is a hands-free device designed for efficient nosebleed treatment. It combines external nasal pressure and intranasal sponges to provide a convenient and effective solution. NasaClip can be used in various settings, including clinics, schools, and homes, offering a better way to manage nosebleeds.
WHAT'S INCLUDED
With quantity options to meet any demand, choose from our 2, 10, or 20 unit packages. The 20 unit package comes in 10 patient pairs, making it easy for healthcare professionals to treat patients with 1 Clinical Use device and 1 Take-Home device. Each NasaClip pack is designed to treat nosebleeds effortlessly. Don't let nosebleeds catch you off guard – be prepared with NasaClip. Shop now and experience the difference.

Pressure on the nosebleed. And off you.

NasaClip it!

Materials

NasaClip is composed of a wire with silicone overmold pinch pads, a plastic base and soft medical grade intranasal sponges. Providing personalized pressure to stop nosebleeds quickly. 

If you have a specific allergy to silicone you should not use NasaClip.
Specifically made for children and adults

NasaClip is available in 2 sizes: Child and Adult.

NasaClip Child, which comes in teal, is recommended for children ages 2-13.

NasaClip Adult, which comes in purple, is recommended for children over the age of 14 and adults. 
How to use

During a nosebleed event, first clear the nose of any clots, then lean forward and insert both NasaClip sponges into the nostrils, rotate the clip into place, and squeeze shut. Leave the device in place for 10 to 20 minutes, then release the clip and check for bleeding. Click here for more information and video instructions.
FSA eligible

NasaClip meets the requirements for FSA eligibility.
How to dispose of

You can throw it away in the trash bin or in a biological waste bin.
Share
View full details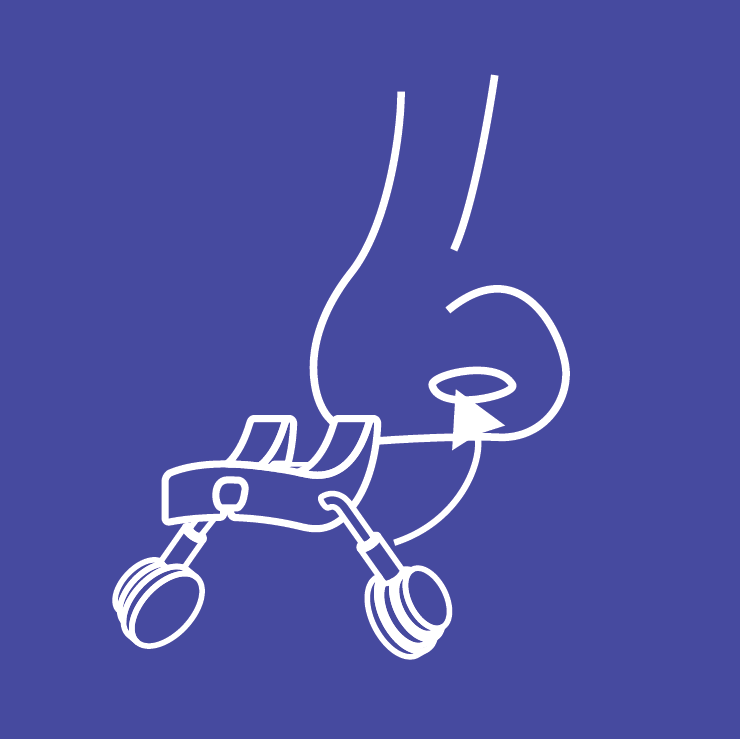 Check out our How To Video!